Check out my other heroes!
Elan, the Ghost Rider

(Plsm-Rav)
Chronus, the Time Legionnaire

(Qnt-Sen)
Vesuvius, the Igneous Ancient

(Plsm-Sen)
Heron, the Sky-Taker

(Cyb-Rav)
Cortex, the Mastermind
Necro Sentinel
Bio:
As a pacifist monk living underground in complete solitude for hundreds of years, Cortex honed his meditation techniques to an outstanding effect. The esteemed Crogenitor Ingto sensed great power within the rock and eventually came across Cortex.
Knowing Cortex was quite strong on his own, Ingto plead him to join in the resistance against the Nocturni Legion. When he refused, Ingto took offense and dragged the poor monk to his laboratory where he force-fed Cortex mutagens until he wasn't even close to the same creature he was before. His quiet nature had evolved into a blind rage, and his perfected meditation had evolved into an unstoppable mind weapon.
Clutching his head and foaming at the mouth, Cortex ran out and started slaughtering everything he saw-- friend and foe alike. He telekinetically tossed them into walls and crushed their bones, he controlled their minds and made them explode from the inside out, as if he was getting pleasure from this pain.
Eventually he found his way back to his cave and sealed himself off from society. And just as he had cooled off, a swarm of Darkspore unearthed him… and didn't live to regret it.
----------------------------------------------------------------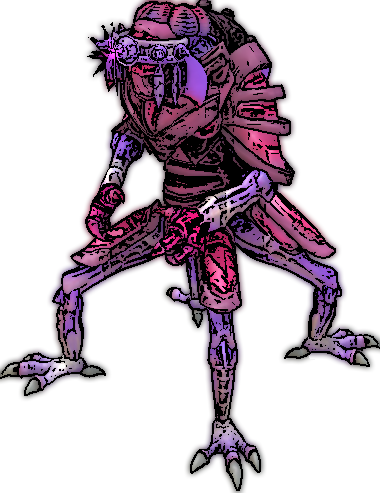 Weapon: A psychic amplifier he wears on the back of his neck.
----------------------------------------------------------------
Abilities:

Psychic Punch
(Attack) -- Assaults the enemy with telekinesis from a medium range dealing
9
-
15
physical damage.
>Range: 15m
>Cooldown: 0.6s

Blood Sacrifice
(Unique) -- For the next
5
seconds, Cortex's Critical Rating is doubled. This ability consumes 10% of your remaining health to use.
>Power Cost: 9
>Range: Self
>Cooldown: 9.0s

Mind Control
(Squad) -- Target enemy minion is transformed into your pet. Using this ability with the pet active will cause it to self-destruct instantly, cost only half power, and reduce the cooldown before the next use to 5.0s. Against Lieutenants, Generals, or other heroes (in PvP) this will cause Fear for
3
seconds.
- Alteration 1: Controls in a small area of effect, but pets can break the mind control and turn on you without warning.
- Alteration 2: Allows control of Lieutenants, but triples power consumption and limits duration to 20 seconds.
>Power Cost: 27
>Range: 15m
>Cooldown: 10.0s

Corpse Explosion
(Passive) -- Enemies that explode upon death within 18m of you will deal
3
-
5
damage to enemies up to
3
m away. (Overdrive: Every enemy killed within 18m restores your health by 5%)
Variant Abilities:
Alpha
α -- Soul Link
Beta
β -- Phantom Charge
Gamma
γ -- Affliction Bolt
Delta
δ -- Lifeforce Siphon
Notes:
- "Cortex" is pronounced [
káwr
teks]
- He is considered male, though there exist no others of his species
- Corpse Explosion activates every time an enemy explodes upon death within range, be it by a critical hit or by detonating the mind-controlled pet.