Thanks for your feedbacks,I have two more Heroes,One I will post now,and one I need you guy's help on,I need a Cool title (Here are the Details);
Name:Clay, (Title pending)
Genesis:Bio
Class:Sentinal
Image:
And now for the Finished Hero;
Living-Weapon Name: Giaus,The Gaussmetal Guardia
Classification:Tempest-Cyber
Picture: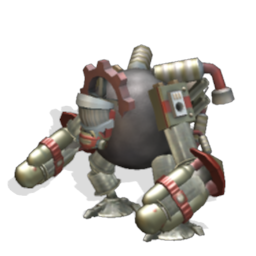 Link
Description:Giaus' main body is a Gaussmetal orb,strong against attacks,yet still flexible and light,His brain (All that remains from his time as an organic) is incased in a small chamber in the Front of the Orb,designed to look like a Medieval Knight's Helmet.
His limbs a re strong and short,perfect for Firing projectiles at far away foes,and defending the helpless of Infinity's Cities.
Bio:Giaus was once a preacher on Infinity,In the Toxic cesspits of Infinity's industrial districts he led the Ordinary workers in a Dream of Freedom,In a dream that he promised would return Infinity to it's former peace and glory.
However he caused too much anger among the numerous gangs and Mobs that roamed the Underworld at night and was brutally slaughtered in a Mugging,He was left in a pool of dank,dark slime,alone and cold as his life slipped away from him...
Before he went under a tall being appeared to him,and touched him,When Touched Giaus found a new source of Strength and rose to his feet.Dripping blood,he followed the Being into a decrepit factory,log since past production days,their he fell once more...and he knew he would not wake...
While Giaus died,the Crogenitor Suzu,used instruments hidden in the Factory to remove the Giaus' vitals and place the inside a flexible,gaussmetal shell.This done he added powerful magnetic accelerator cannons to Giaus' hands,and then Cleansed the Body withs steam.
When Giaus woke again,He twisted his hands,and found himself to be in a new body,The Body of an inorganic warrior,the body of a being which could not feel pain...Giaus Passion remained however.He strode out of the factory and used magnetic powers to bring down the Drug bosses and Crime lords of Inifnity,He defended those who had nothing to fight for,would face endless hordes and not falter...Then the Darkspore invaded,and as Giaus crushed Darkspore corpses beneath his feet in the Streets,those who protected whispered his name...Giaus,The Gaussmetal Gaurdia...
Abilities:
Gausspunch
(Basic ability-Physical damage-Range)
Giaus fires one of his magnetic fists at a darkspore,dealing
5-11 physical damage
and a chance for a
3
second Stun
Combo Punch
(Ability-Physical Damage)
Gaius fires both of his fists at a target in quick,Brutal succession.Each fist deals
15 damage
,and if both hit the Target will be
knocked back a distance
Resonance Cannon
(Ability-Energy damage)
Giaus manipulates magnetic sound waves in his body to shake an area around him,If in a Cave there is a chance that large rocks will fall and crush darkspore.Has a Chance of Dazing enemies and catapulting them up into the Air,dealing damage when they land
Steam Clean
(Squad ability)
Giaus' squad ability cleans his body of all Inflictions and Debuffs with the glorious power of Steam.The Steam begins to radiate from Giaus in a small radius,dealing 5 damage to each darkspore caught in it and Burning them for a short time